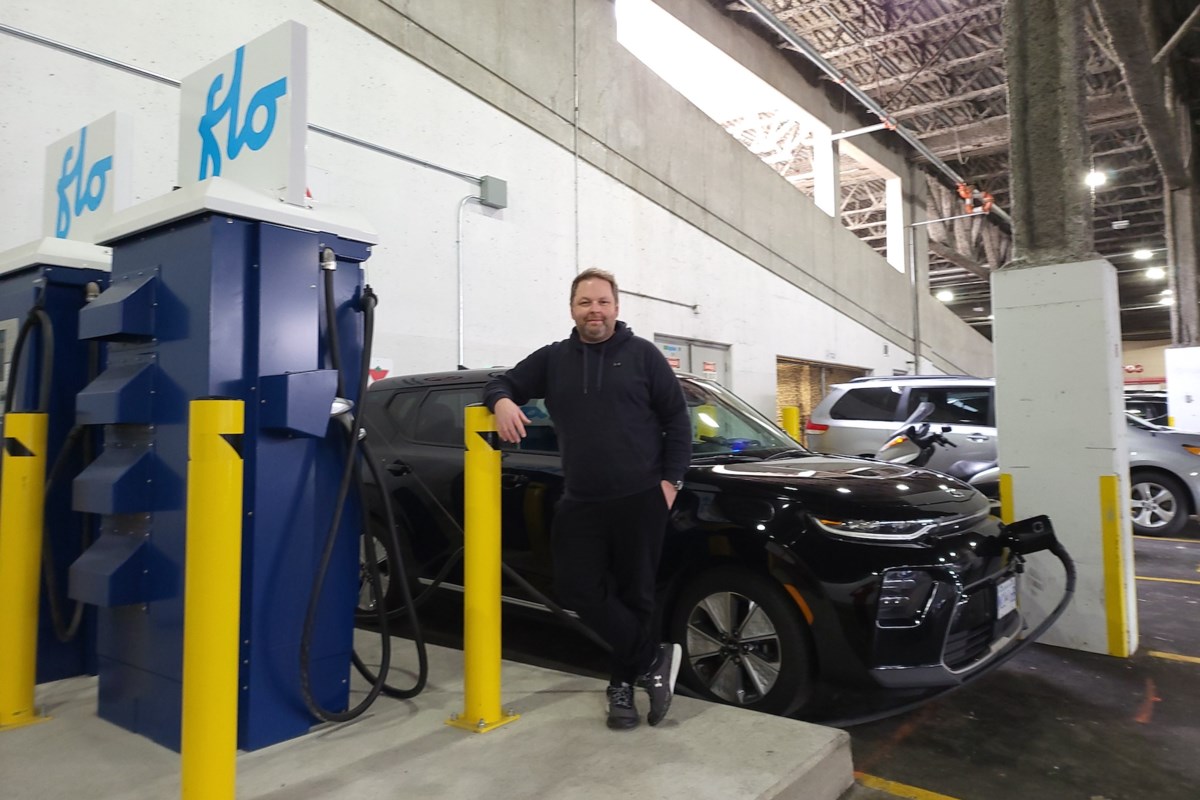 What does driving an electric vehicle in the Sea to Sky look like?
Filip Dabrowski of the Left Coast EV YouTube channel talks about all things electric, including how the Sea to Sky measures up.
Filip Dabrowski drives to Garibaldi Village shopping center in Squamish to charge his 2021 Kia Soul EV at the Electrify Canada charging station across from London Drugs.
He likes what he finds and tells the camera it's a great place to stop and recharge.
Dabrowski has a YouTube channel, Left Coast EV, where he records his experiences and reviews.
Dabrowski, who works for an insurance company by day, and his wife own two electric vehicles, the Kia and a 2021 Tesla Model 3 Standard Range Plus.
He says so many people asked him about electric cars that he started making videos and doing reviews about them.
With current gas prices shocking people, it's no surprise that more and more drivers are considering going electric. So we reached out to Dabrowski for the scoop.
The following is an edited version of that conversation.
How is Squamish for his recharge?
For a small town smack in the middle between Vancouver and Whistler, which is one of the busiest roads in British Columbia, the infrastructure is great, because not only do you have this fast charger from London Drugs, which is Electrify Canada , you also have BC Hydro in town and then there is another fast charger near the liquor store which you can access via SWITCH. These are all non-Tesla chargers. Then there's Boston Pizza's Tesla Supercharger station.
Why and when did you switch from a petrol vehicle to an electric vehicle?
I was always thinking about electricity; many of my friends have electric cars. Teslas are cool, but everyone buys a Tesla. In Vancouver, throw a rock and you hit a Tesla.
So I wanted to take a little different route and try my hand at driving a car that is not connected to a network.
I decided to opt for the Kia. I also have a Tesla now, because I changed my second car to electric.
We don't spend a lot of money on refills and we don't spend a lot of money on gas and when it's $2 a liter, you know, you save a lot of money.
Do you have a charger installed in your home?
No, I actually live in a condo, and it's very old-school. The building is a bit older – it was built before BC Hydro and the Government of British Columbia implemented the CleanBC action plan.
If you have a new condo you can install a charger with no problem as they have the infrastructure.
But I'm lucky enough to live in central Coquitlam where in a few minutes I'm at Coquitlam City Hall and then they have a free refill. It's not super fast, but it's good enough for us.
Overnight we just park the car there, plug it in and charge it.
So, actually, it costs me nothing to drive right now.
But what if someone else wants to charge and unplugs yours?
We have three free charging stations and then we have two where you pay $1 an hour and charging is a little faster.
Those of us in the area who drive electric vehicles got together and just agreed to put a piece of paper on the windshield. And if someone really needs a refill, they call me, I'm five minutes away.
Looking at gas prices right now—it's 209.9 cents a liter right now in Squamish—you must be glad you've changed?
It's one of the best things I've ever done. And ICBC insurance is also a bit cheaper for electric cars.
But you know, the upfront costs of electric cars mean, for some people, that's still not feasible.
You really have to think about the longevity of the car – how many years you're going to keep it – to get that money back over time.
It's still, for many people, cheaper to go for the cheapest gas-powered car.
But, if you've got the money and you're a little on the fence – want to buy a nice semi-luxury petrol car, or a mid-range electric car, I'd definitely say go electric. There is no maintenance; there is nothing. You just drive it.
What about range anxiety? What happens if you're driving and you haven't charged enough and you're running out of power?
My Kia has had roadside assistance for five years, so I just push a button and a tow truck comes and picks me up. But I also have to tell you that in my Kia, zero does not mean zero or 0% on your battery. There is always a buffer of around 5-10%.
So there's a six kilowatt buffer that you never use, but it's always there, just in case. I have never lacked energy yet. I drove with 0% for about 15-20 minutes to a charger, and had no issues.
Anxiety back at the beach, and if I want to take a road trip, say, to the Yukon. Am I going to do it in an electric car?
The Yukon is on my bucket list. I'm actually planning a route this summer where I'm going to try to get to Whitehorse because there aren't that many chargers there. So you will have to charge in hotels. But again, all you need is an outlet, even a household outlet will do. You're not going to charge your car very quickly, but it's a charge. I contacted a few hotels along the way and they said I could charge there, no problem. If you show up and have your own charging gear, you can just plug in and go.
If they have a more powerful outlet like a clothes dryer, and you have your adapter, you can charge even faster.
Yes, there is a bit of thought and planning you need to do. But if you're a little ingenious, I think you can do it.
Elsewhere, no problem.
Last year my family and I traveled 3,500 kilometers through British Columbia to Alberta, Jasper, then Prince George and back to Coquitlam. We had no problems. We have never lacked energy.
We've never found a broken charger, you know, and I just want to show people that you can live your life with an electric car like you would with a gasoline car, save a lot of money and protect the environment .
When you look at the electrical infrastructure, what do you see? What do you think it will become?
Right now, the biggest problem with adoption is that the price of entry into the world of electric vehicles is very expensive, right? So I think that's what's holding back the spread of more infrastructure right now. People don't buy as many as I would like to expand the network because it all depends on how many cars are on the road. I would say probably in about 10 years we will see double what we have today. Certainly, maybe even triple.
What misconceptions do you hear about driving an electric vehicle that you would like to dispel?
Possibly related to concerns about them when it's cold. That if you're stuck on a freeway, because there's a blizzard, you'll only have four hours of battery left, and then you'll die.
You can turn on an electric car and run it with the heater on for two days, three days if needed.
When we were traveling in BC and Alberta, we camped one night when there were so many mosquitoes we had to sleep inside the car. So, I just kept the car on all night, with the air conditioning on 20 degrees. It was perfect. We just used, I think, 2% battery power.
Next week over spring break I'm going to take my son to this campground near Squamish in Porteau Cove for a night and show people how much energy you use if you run the whole HVAC system and stuff .