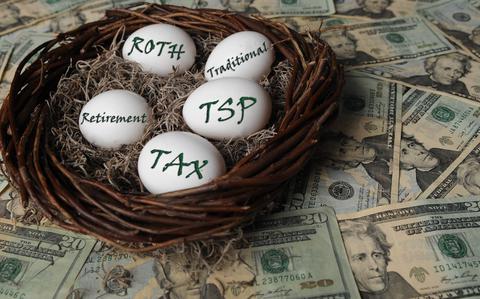 Thrift Savings Plan will soon offer mutual funds, a mobile app and other requested services
The federal government's Thrift Savings Plan is catching up with services already provided by similar companies in the civilian sector: a mobile app, online chat support and electronic funds transfer.
Starting this summer, the savings plan — the equivalent of a 401(k) retirement account for military and civilian workers — will also offer mutual funds for the first time in addition to its stable of index funds.
The changes, announced by the Federal Retirement Thrift Investment Board on Jan. 26, come in response to requests for such services by plan members seeking greater investment flexibility, the board's spokeswoman said Thursday. Kim Weaver at Stars and Stripes.
Mutual funds invest in a changing list of securities chosen by an investment manager and will attempt to outperform the stock market. By contrast, index funds track specific securities in stock indexes, such as the Standard & Poor's 500, Dow Jones and Nasdaq, which seek average market returns, according to NerdWallet.com.
"The mobile app will allow participants to complete all of the transactions they can make on the website," Weaver said. "Including having access to a chat feature that can then connect the attendee to a live contact center representative."
To invest in mutual funds through the savings plan, account holders must hold a minimum balance of $40,000 and make a minimum investment of $10,000 in mutual funds.
"The initial investment of $10,000 is intended to ensure that TSP participants transfer enough money into the mutual fund window to reduce the effect of account, transaction and mutual fund fees charged by the mutual fund window and the funds," Weaver said.
The Thrift Savings Plan became available to uniformed service members in 2001, and since December the average account balance has been around $40,000.
Federal employees had access to the savings plan beginning in 1987; the average account balance in the Federal Employees Retirement System is about $181,000, according to the Federal Retirement Thrift Investment Board website.
Thrift Savings Plan participants will pay an annual access fee of $55 and a service fee of $95 to participate in mutual funds. A base transaction fee of $28.75 will vary by fund.
"The number of mutual funds offered in the mutual fund window will number in the thousands," Weaver said. "The TSP requires the mutual fund window to offer the lowest priced share class of each mutual fund to its participants. The number of funds will fluctuate as mutual funds join or leave the mutual fund counter platform.
Current administration fees for index and Lifecycle funds average 0.043 cents per $1,000 invested, according to Weaver.
"Mutual funds offered through the mutual fund window will have their own costs associated with them," she said. "They are not controlled by the TSP, but rather by the owner of the mutual fund."
Thrift Savings Plan members should do research before transferring money to mutual funds, or at least wait until a year has passed to review fund performance, says financial adviser Felix De Jesus of Marine Corps Air Station Iwakuni, Japan.
"Right now, with the way indexes are current and Lifecycle funds, they really meet most people's wealth building desires because they're moderate plans," De Jesus told the Stars and Stripes by phone Thursday. "Now mutual funds, depending on which mutual fund they focus on, in which sector of the stock market, volatility and earnings can fluctuate."