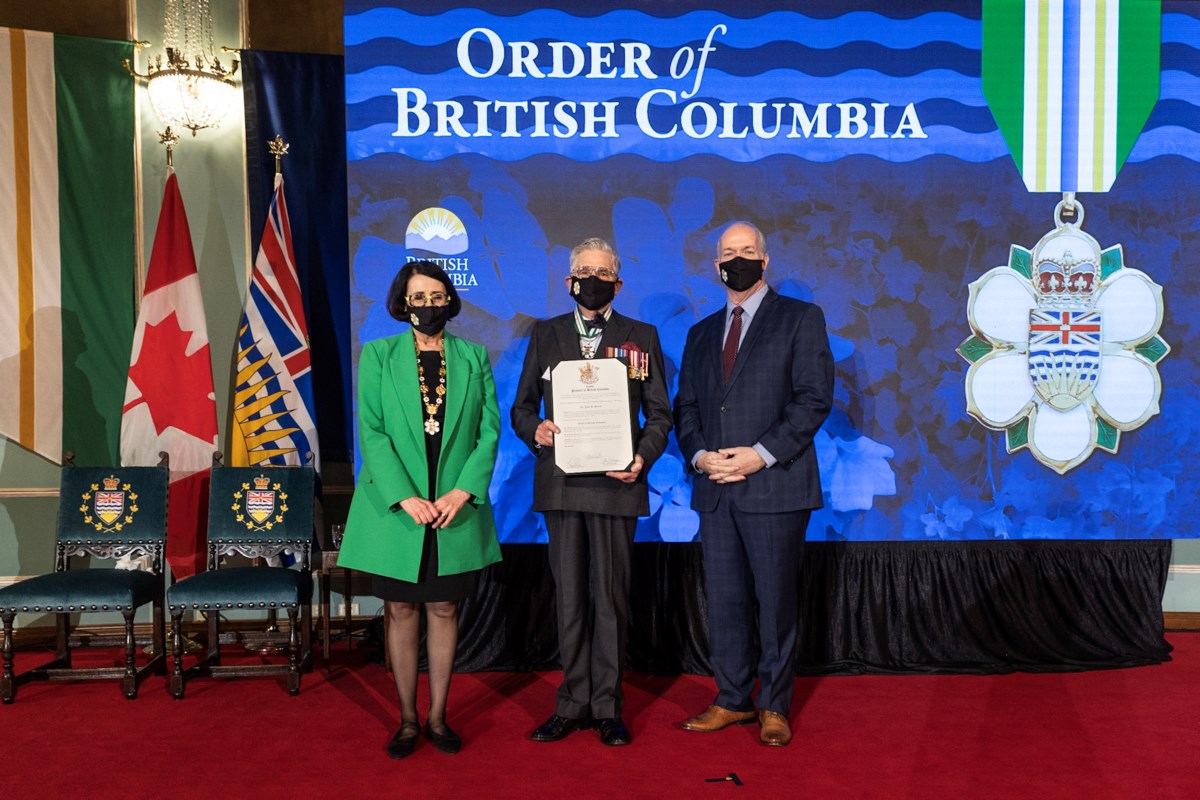 The famous Deltan receives the Order of British Columbia
Two years after being appointed, John Horton of Delta finally received his Order of British Columbia.
The province's highest form of recognition was finally bestowed on Horton in a ceremony at Government House in Victoria last week.
Horton was among 31 others from 2020, 2021 to receive the award from Premier John Horgan and British Columbia Lieutenant Governor Janet Austin.
"It was very humbling because you look at all the other people who got it and listen to all the other things other people have done and wonder why I'm here," Horton said. "It was a very nice event. We were able to interact with the other recipients. I got to know some of them and heard about the wonderful things they did.
"You couldn't be impressed with everyone…many physicians who have achieved scientific breakthroughs right here in British Columbia. It was quite remarkable. »
When the Optimistic spoke with Horton on Monday morning, he was on the Delta lifeboat in Comox supporting the roe herring fishery.
"It's going well. There are quite a few Delta boats here fishing," he said. "I expect to be here supporting the boats from a safety standpoint for the rest of the season. week."
Horton, a famous marine artist, has made significant contributions to the appreciation and safety of the coastal history of British Columbia and its waters through his paintings held in collections across Canada, designs by commemorative coins for the Canadian Mint and a lifetime of volunteer service to keep sailors safe. .
In 2019, the City of Delta presented Horton with its Delta Friends of Heritage Award. Horton has been credited with spreading awareness of Delta's maritime heritage through art, particularly his painting Arrival at Port Guichon, which was gifted to Delta, following a year-long fundraising campaign. The painting will be on permanent display at the Doug J. Husband Discovery Center.
Equally important is his longstanding volunteer work in maritime search and rescue.
Over the years, Horton has been active with the Canadian Coast Guard Auxiliary, the Canadian Lifeboat Institution, the Royal Naval Sailing Association (BC), the Royal Canadian Sea Cadets and the Naval Officers Association of BC. He was instrumental in the development of the Lifeboat Institution and used his own vessels to respond to 600 incidents.
Since joining the Maritime Rescue Auxiliaries of Canada in 1979, he has focused on helping BC's Aboriginal and commercial fishers and other mariners in distress. Volunteering under the auxiliary flag, he participated in the rescue of hundreds of ships in distress or disabled.
In 1988, Horton began volunteering with the Search and Rescue (SAR) service of the Canadian Lifeboat Institutes, a non-profit registered charity that provides non-governmental assistance for search and rescue in the waters. lower Fraser and Gulf of Georgia. From his base in Steveston, Horton trained volunteers to become capable crew members. Plus, he's spent thousands of hours and his own money maintaining his 52-footer. Delta lifeboatformerly the Steveston Lifeboat. To date, nearly 900 incidents have been assisted by Horton aboard the Delta lifeboat.
In recognition of his marine artistry, he is the only Canadian artist mentioned in the late Dennis Brook-Hart's definitive book, 20th Century Marine Painting. He is a founding member of the Canadian Society of Marine Artists and a member of the Federation of Canadian Artists, the Naval Officers Association of BC and the Honorable Company of Master Mariners. Through his art, he has supported many schools, museums, hospitals and community charities.