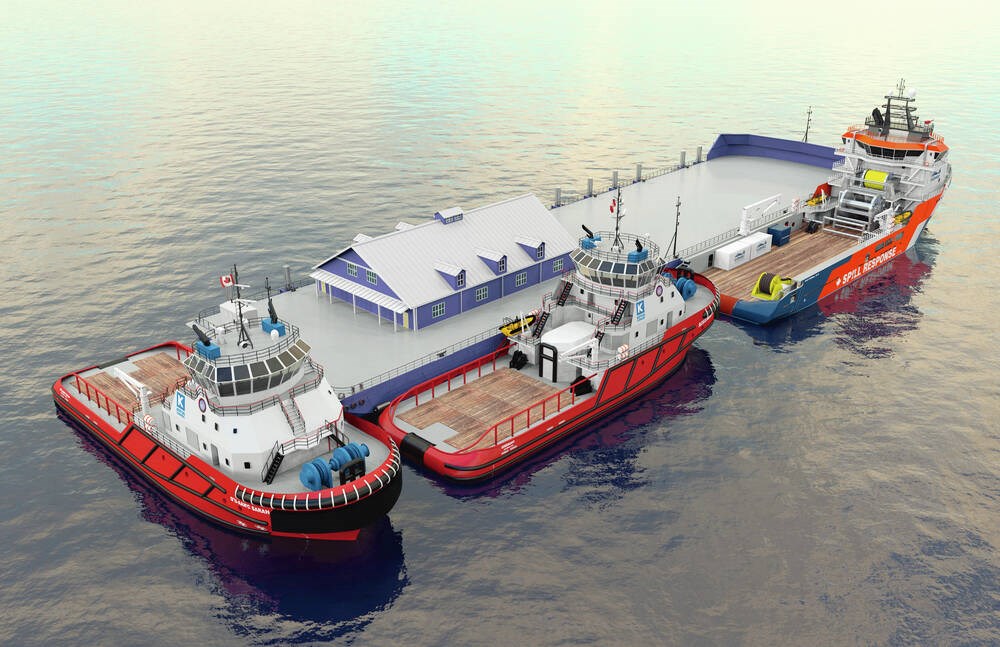 Strengthening tug and spill cleaning capacity to cope with growing tanker traffic
Tugs would accompany tankers carrying oil from the expanded Trans Mountain pipeline
Tugs based on the island's southwest coast will be the region's exclusive escort suppliers for tankers carrying oil from the expanded Trans Mountain pipeline under a new 15-year agreement.
Trans Mountain said Kotug Canada's tugs, which will be based in Beecher Bay, will escort tankers between the outer limit of the Port of Vancouver and the western entrance to Juan de Fuca Strait.
Up to four tugs accompany tankers through Vancouver Harbor, while others escort ships from Saturna Island beyond Victoria.
Regulations also require two pilots to be in charge of tankers entering and exiting Vancouver. Incoming tankers pick up pilots just off Victoria to bring the ship to the Burrard Inlet terminal.
Under a separate agreement with the Western Canada Marine Response Corporation, which is responsible for managing oil spills around Vancouver Island, the Strait of Georgia and the Metro Vancouver coastline, Kotug will provide and will also operate a dedicated offshore supply vessel equipped for oil spill response.
The three vessels – the two 150-foot escort tugs and the 245-foot offshore supply vessel – will be moored to a barge floating just beyond Beecher Bay Marina.
Michael Lowry, of Western Canada Marine Response, said the deal bolsters plans to establish an emergency response base at Beecher Bay, one of six to be established or increased as part of an expansion. $ 163 million in disaster response on the West Coast.
Lowry said Kotug will operate the vessel offshore under the direction of Western Canada Marine Response and with personnel specialized in oil spill response.
"These tugs will bring significant new towing capacity to the region and increase the level of maritime safety and emergency response, benefiting the shared waters of the Salish Sea," said Ian Anderson, Managing Director of Trans Mountain.
Sc'ianew First Nation Chief Russ Chipps and his community "have shown great leadership in protecting the marine environment, and this partnership will provide significant employment and business opportunities," said he declared.
"This is a great example of how the shared values ​​of protecting the marine environment, building capacity and growing local economies can work together. "
Kotug's agreement with the Sc'ianew First Nation will support its economic activities and provide training and employment, while the company expects to gain direction and ideas on how to operate in the coastal environment.
"We have gone to great lengths, controversies and criticism to protect the ocean," Chipps said. "This is only part of our commitment to our people to do it. We want to be the center of research, development and protection of the oceans, while being the sea ambulance. "
The offshore supply vessel will be equipped with a 4000 foot boom, high speed sweeping system and high capacity skimming system and will have overnight accommodation space for 26 crew members.
The vessel enables Western Canada Marine Response to organize a full-scale response within six hours anywhere along the shipping lanes.
Lowry said the barge and ships are expected to be established at Beecher Bay before the end of 2022, when all six bases are expected to be equipped and operational.
Port Alberni and Fraser River bases are already complete, while Sidney and Nanaimo are expected to be by the end of the month.
The expansion program, budgeted from $ 150 million in 2019 to $ 163 million, will also add 44 spill-ready vessels and hire 137 people.
Only 34 vessels have been delivered to date. The others are still under construction.
Trans Mountain would not update when it expected the expanded pipeline to be in service. This year, he suggested it could be up and running by the end of 2022.
Traffic is expected to increase to around 34 tankers per month as a result of the project.