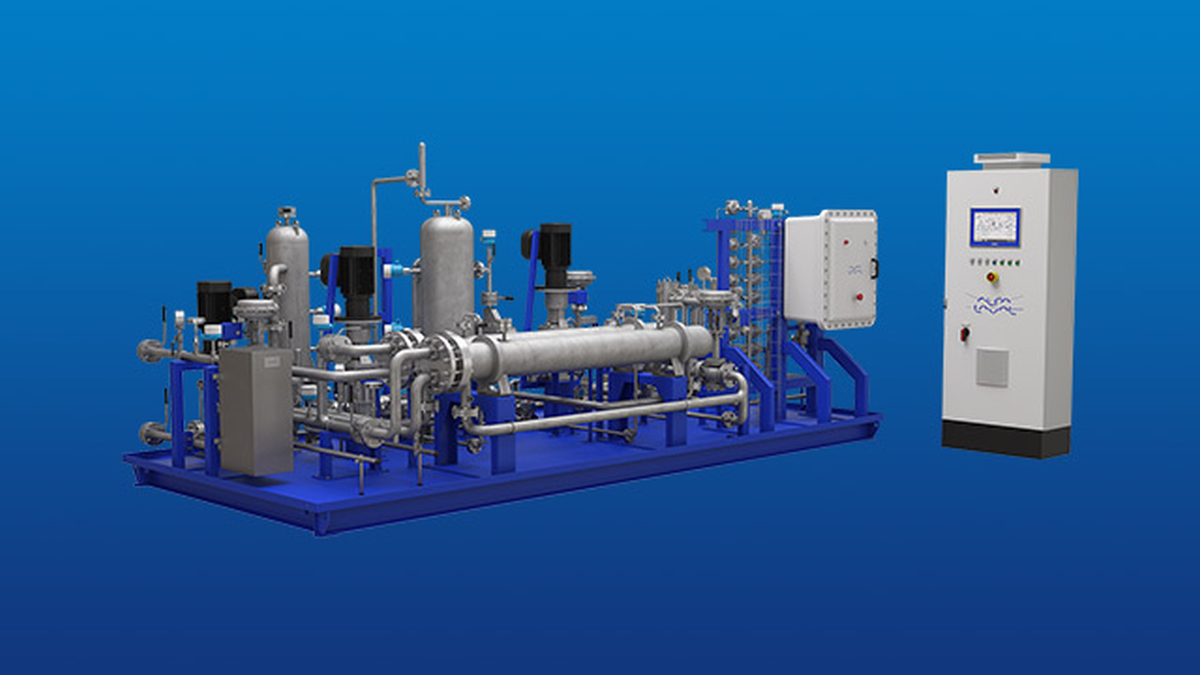 Riviera – News Content Hub
August 15, 2022by Riviera News
Subsidiary X-Press Feeders dual-fuel container ships will use Alfa Laval's Fuel Methanol Conditioning Module (FCM) systems
Alfa Laval will supply Low Flash Point Methanol Feeding Systems (LFSS) for six 1,170 TEU container ships ordered by Eastaway, a member of the X-Press Feeders group.
The new series of ships, which will be built at Chinese shipyards Ningbo Xinle Shipbuilding Group and New Dayang Shipbuilding, will be powered by two-stroke MAN B&W ME-LGIM engines that can run on methanol as well as conventional fuels. Deliveries of the FCM methanol system will begin in June 2023, and the system was chosen for its performance and design flexibility, according to Alfa Laval.
"With mature technologies and reliable automation, FCM Methanol safely delivers methanol within the flow, pressure, temperature and filtration parameters specified by the engine manufacturer. Because it can be tailored to any any engine and vessel design, it enables turnkey LFSS deliveries for easy installation. Since 2015, the system has been chosen in nearly 20 methanol projects for more than 10 major shipping lines," reads a statement from Alfa Laval.
Given the complexity and scale of this project, the shipyards building the ships have engaged engineering companies to source and integrate the methanol-related components, according to Alfa Laval.
"With their ability to sail on green methanol, these vessels will be at the forefront of the transition to carbon neutral operations. Methanol is a major step on the road to decarbonization, and FCM methanol can help shipowners take the leap," said Peter Nielsen, President of Alfa Laval Marine Separation & Heat Transfer Equipment.
Eastaway recently made a formal commitment to a long-term strategy to improve the sustainability of operations. The strategy, which is in line with IMO 2030, focuses on reducing emissions through long-term fleet rejuvenation and the purchase of new low-emission vessels, according to the company.
In addition to the order for six new vessels agreed in 2022, Eastaway signed an agreement in 2021 for the construction of five 3,100 TEU container ships with the Zhoushan Changhong shipyard and eight new 7,000 TEU vessels with the Shanghai Waigaogqiao shipyard. With these new vessels, Eastaway aims to reduce the fuel consumption and greenhouse gas emissions of its fleet by 30 to 40%. The company also aims to achieve net zero emissions by 2050 on a fleet that currently has more than 50 vessels under its management.
In May 2022, Eastaway contracted Wärtsilä to provide shaft power limiting technology for six container ships in Eastaway Ship Management's fleet. And in June 2022, Eastaway engaged Value Maritime to add carbon capture and storage onboard two container ships.
"A greener future for shipping can no longer just be discussed, it must be put into action. The long-term renewal of Eastaway's fleet, through the purchase of new builds and adjustments to our current fleet, reiterates our commitment to the IMO 2030 goals," said Eastaway Chief Executive Officer, Captain RS Minhas.