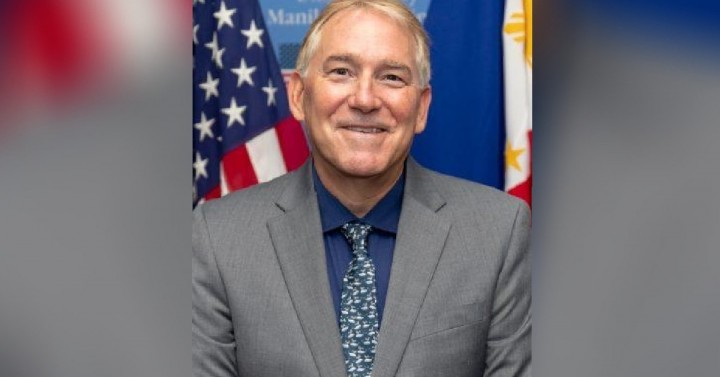 PH-US cooperation is bound to flourish in the years to come: Sent
MANILA – Outgoing U.S. Embassy Chargé d'Affaires John Law said he believed there was nowhere to go but for the security alliance and inter-state cooperation- United and the Philippines.
"I am confident that our security alliance and cooperative partnership will continue to thrive in the years to come, and that our countries will become increasingly secure and prosperous. My optimism is rooted in something much deeper and more enduring than our political and economic interests; it springs from the hearts of our two peoples, "Law said in a September 7 editorial posted on the US Embassy website.
More than allies, the diplomat called the American and Filipino people "friends and family" with a history stretching back more than a century and ties that "are refreshed every day."
Regarding the ongoing battle against the coronavirus, Law assured that the United States will continue to help Manila overcome the pandemic through donated vaccines, medical equipment and public health assistance.
The United States has donated more than 13 million doses of vaccine to the country through the COVAX facility and "millions more" are expected to arrive.
"Millions more will come; the Philippines will receive 44 million doses of COVAX vaccine. I am heartened by every delivery of these life-saving vaccines, which save lives and build confidence that together we will overcome this terrible pandemic," did he declare. .
Law noted that the two countries are also engaged in various areas of cooperation, including promoting the economic and environmental sustainability of the West Philippine Sea.
Over the past few years, he said, his "Fish Right Program" has advanced best practices in fisheries and marine resource management and has even helped reduce illegal, unreported and unregulated fishing in the region. Philippine waters.
"Together, we are supporting innovative approaches to reduce ocean pollution, protect sensitive marine environmental areas and strengthen international maritime scientific research," he said, adding that a strong maritime presence in the region is "good. more than traditional security ".
Meanwhile, Law expressed Washington DC's appreciation for President Rodrigo Duterte's decision to reinstate the visiting forces deal.
"We believe that our alliance strengthens the operational readiness of the two countries, deters conflicts and defends a peaceful, stable and rules-based order throughout the region," he said. "Recent visits by our Secretary of Defense and the Commander of the US Indo-Pacific Command demonstrate our unwavering commitment to our longest-standing treaty ally in the region.
As he left the country for his next post, Law said he "looked forward to the future of our bilateral relationship."
Law has been a Chargé d'affaires since arriving in Manila in September 2018. (ANP)