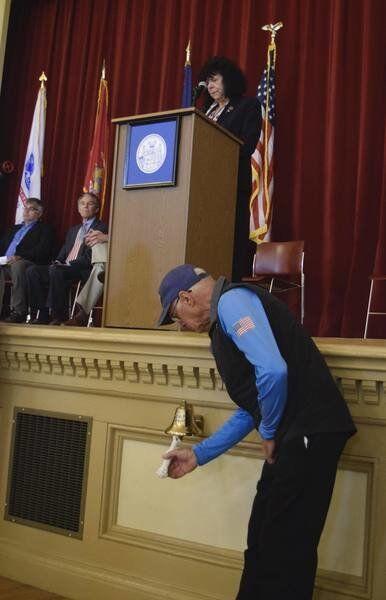 Newburyport Veterans Memorial Day Honor Roll | Local News
Editor's Note: It is a tradition in Newburyport on Remembrance Day and Veterans Day for the Mayor to read the names of veterans who have died in the past six months. Mayor Donna Holaday performed this traditional role reading on Monday, with each name followed by the sound of a bell three times during the ceremony at the Town Hall auditorium.
The following was read by the mayor on Monday to honor veterans who have passed away since November:
David Barton Casavant, US Air Force
David graduated from Immaculate Conception High School in 1956 and enlisted in the Air Force. He worked as a designer for most of his career. He was active in hairdressing salon singing and sang competitively in the area. He was also a marathoner, having completed the Boston Marathon on several occasions. A seasoned carpenter, golfer, pétanque player, David had many skills that he shared generously and deserved the love of his friends and family.
James S. Brady, US Army
James proudly served three years in the military during the Vietnam era and was stationed in West Germany as well as Colorado. He had a 40 year career as a professional mover with Bridges Brothers here in Newburyport. He was an avid fisherman and an expert at tying his own flies. An avid reader, David was a familiar face at the local library or a familiar passer-by on the promenade.
Richard J. Cataldo, United States Marine Corps
Richard proudly served with the Marines at Camp Lejeune and Quantico during his tenure. After the service he worked as an IT developer for missile guidance systems for Electric Boat in Groton and Raytheon. He has taught at Whittier Vocational and has also taught English to foreign language students in Boston. He has served on the Newburyport Planning Council and the local Salvation Army Board of Directors.
Noreen (Kitchen) Pramberg, US Air Force
Noreen served in the Air Force during the Korean War and was a founding member of Women in Military Service. She is listed in the Women's Memorial at Arlington National Cemetery and married John "Hack" Pramberg while she was on active duty in San Antonio. His training as a medical secretary has allowed him to volunteer on the Massachusetts Lung Association board of directors and in many other volunteer positions. She was a renowned genealogy author and co-owner of Parker River Researchers, which reprinted stories and genealogies. One expression she used was, "We love the things we love for what they are."
Thomas Joseph Mahon, US Army
Tom enlisted in the military during the Korean War and received the Medal of Good Conduct and the National Defense Medal. He began a teaching career in the Boston public school system and then served as a teacher and administrator in the Newburyport school system for 34 years. To this day, many of his former students speak with great affection about him and the positive impact he has had on their lives. Tom will be remembered above all for his passion for Irish history, reading, patriotism, family, faith and for being content with the simple things in life.
William John Badger Smith, American Coast Guard
Bill served many years in the Coast Guard and Merchant Marine Sealift Command. Her nautical accomplishments were remarkable – once towing a ship for 25 hours in 20 foot waves and 50 mph winds. He ran a boat rental business and ran cruises in Boston Harbor, the New England coast, and the Caribbean. An avid outdoorsman and mountain climber, he has also led Mount Washington expeditions for decades. A caring nature and charismatic personality allowed Bill to maintain many meaningful relationships during his too short life.
William Charles Carlson, US Navy
Bill toured twice with the Navy in Vietnam, winning the Vietnamese Service Medal with Bronze Star. He also received the Navy Commendation Medal. Bill was a friendly guy who spent much of his time sharing his thoughts and feelings with the members of the Newburyport Senior Center. He was passionate about solving crosswords and could engage you on any topic, usually with a dry mind.
Eugene "Bucky" Gammons, US Navy
Bucky entered the Navy after graduating from Newburyport High School. He served 18 months in Vietnam and spent his career with Towle Silversmith and the Postal Service. He was a former member of the Newburyport Zoning Appeal Board and a longtime member of the local Elks. Her greatest pleasure was spending time with her family and friends, and especially her beloved grandchildren.
Michael J. Richardson Jr., US Air Force
Michael was an exceptional athlete at Newburyport High School. He was a member of the 1998 championship soccer team, was a three-time MVP for the track and field team, and played college basketball. He joined the Air Force in 2004 and quickly rose through the ranks to the rank of Technical Sergeant in unit development management. In 2008, he was deployed to Afghanistan and was subsequently stationed at Pease Air Base. In 2020, he received the Air Force Medal of Honor and was stationed at Hanscom Air Base at the time of his death.
Frank A. Casey, US Army
Frank graduated from Newburyport High School in 1947. After graduating, he joined the military and was sent to the Korean War. After the army, Frank joined New England Telephone, where he retired after 38 years. From 1965 to 1969 Frank served as Ward 4 Councilor. It was the days of the Newburyport Urban Renewal Project, a project that made our city the beautiful city it is today. As a single father, Frank passed on to his children the core values ​​of hard work, diligence, reliability and, above all, love for family and homeland. He will always be remembered for "being a good man" who possessed a keen sense of humor and an open heart.
Charles L. Wright Jr., US Air Force
After graduating from Newburyport High School, Charles joined the Air Force and served from 1948 to 1952, including two years in the Korean conflict. He was a highly trained automotive engineer and worked with Bailey Corporation and with Kingston Warren Trucking. A member of the Masons for 50 years, Charles was also, at one time, an Amesbury police officer and a call firefighter. He cherished his family, including his grandchildren and great grandchildren.
John "Jack" Toomey, US Navy
Jack was born and raised in Brooklyn New York, and made Newburyport his home because that's where his parents were born. He enjoyed a good game of golf, a trip to Ireland, time spent with his grandchildren, and a man who could tell a good story or a good joke will be remembered. He was a usher at Immaculate Conception Church and a member of the Knights of Columbus in Newburyport.
Arthur "Hunzie" Morris, US Air Force
He served at Thule Air Force Base in Greenland during the Korean conflict and returned to Newburyport to begin a career as a craftsman. Many of the town's houses are filled with examples of its fine craftsmanship. His last name (Gagnon) adorns one of the stained glass windows in Saint-Louis de Gonzague, the "French church" on rue Fédérale where five generations of the family received the sacraments. To his grandchildren, he was known as "Bumpa". To everyone who knew him, he was known as a man you respected very much.
Edward "Ted" Foster, US Air Force
Ted attended Newburyport High School and joined the Air Force shortly thereafter. He was employed by the Bailey Company and Amesbury Industries. Next June, Ted and his wife Barbara would have celebrated their 60th wedding anniversary. He will be remembered for his sense of humor and his witticisms.
Ronald Skip Boyd, US Navy
After graduating from Newburyport High School, Skip served in the Navy and then began a long career as a construction foreman, working primarily in the Boston area. In the late 1970s, he and his wife, Carol, were involved in the Captains Quarters restaurant in Newburyport with their friends Bud and Moira. They then crossed the United States and eventually landed at Lake Amistad, Texas, where they have lived for the past 20 years.
Paul F. Wells, US Army
Paul was born in Newburyport and graduated from Newburyport High School in 1943 with the title of "Best Looking". He enlisted in the US Army Air Corps, proudly serving from 1943 to 1946 during World War II. For years he was a repairman for the New England Telephone & Telegraph Co. and was a long-time member of the Central Congregational Church, which he joined in 1946.
Michael Edward Noyes, US Army
Michael was a native Newburyporter who attended Belleville and Currier schools. His craftmanship began at the Whitter Vocational School and he embarked on a lifelong journey of construction, construction and renovation. In the military at Fort Riley, Kansas, he was nicknamed "the go-to man" who got things done. He had a wealth of old school business knowledge passed down from his father and grandfather, which he passed on to his son Adam. He could change the course of a conversation with a single word, sometimes with a dry sense of humor.
George William Switzer, US Navy
George sailed aboard the USS Saratoga, an aircraft carrier where he maintained the radar system of the F4 Phantom jet fighters. This led to a career with Digital Computers and a move to Newburyport in 2001. George faced a seven-year waitlist to become a member of the American Yacht Club. With the acquisition of his Cape Dory, Cygnet, he embarks on countless serene outings and breathtaking adventures. Hiking, kayaking, sailing and loving family have been efforts that have marked George's fulfilling life. He left this life peacefully listening to the music of Queen and Andres Segovia.
Hazen C. Boyd Jr., US Navy
Born on Boardman Street and graduated in 1949 from Newburyport High School, Hazen served as a radio aboard a Navy destroyer during the Korean conflict. He taught mathematics for 33 years in middle and high school, before retiring in 1994. He was a founding member and leader of the Newburyport Clipper City Toastmaster's Club and won an award in 1993 for the most humorous speech. For a while he was a weekend photographer for the Newburyport Daily News. A devout man, he followed the golden rule throughout his blessed life.