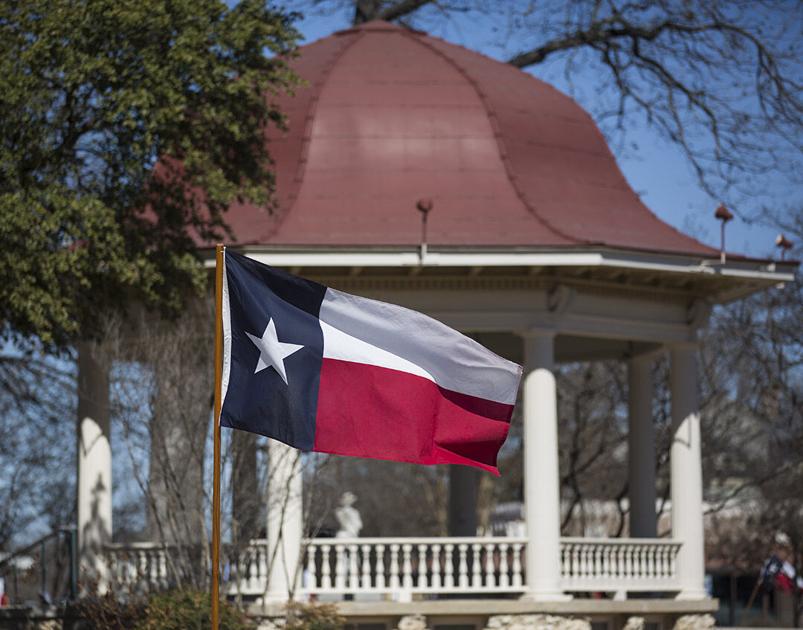 New Braunfels to Mark Memorial Day with Plaza Event | Community alert
Local veterans organizations will gather in downtown New Braunfels on Monday morning to mark the Memorial Day holiday.
The half-hour ceremony is set for 8 a.m. in the main square and will feature words from Mayor Rusty Brockman, flag raising and lowering, bugle players and a 21-gun salute.
Organizations involved include the American Legion, the Veterans of Foreign Wars 7110 Post, the ROTC, and the New Braunfels Chamber of Commerce Military Affairs.
Lt. Col. Mark A. House, JROTC senior marine instructor from New Braunfels ISD, said he was happy Mayor Brockman wanted to continue the tradition.
He said it started with a simple ceremony and evolved as more and more local organizations wanted to contribute.
"It started a few years ago, and Mayor Brockman came to see me and also [JROTC Airforce office instructor] Lt. Col. Timothy Biltz of Canyon High and has asked to step in and see what we can do, "House said. "It started where we wanted to keep it simple, and he's grown and grown ever since."
The band from New Braunfels High School will perform the national anthem and military songs. A colored guard will raise and lower the flag. House fitted out for two bugles, facing each other, to play "Taps" and echo each other.
"It's a really nice effect," said Kurt Andersen, member of the New Braunfels Chamber of Commerce military affairs committee.
Veterans organizations say Memorial Day is different from other honorary holidays such as Veterans Day because it honors those who have died in war rather than living veterans.
House said sometimes other first responders were honored on this day, and while that was respectful, he said the day was for fallen soldiers.
"In Texas, as a very patriotic community and state, we understand what we're focused on," House said.
The American Legion will lay a wreath in front of the Civil War and World War I monuments in the plaza. On Saturday, they will also place flags at the Comal County Cemetery for fallen soldiers.
"We are just proud to be a part of it," said US Legion Commander at Post 179, Don Ingram. "We are proud to be a part of this growing community with a very long, very large military population so that we can host these kinds of events.
The local Foreign War Veterans Post will assist with riflemen and a commander to fire the 21 cannon salute.
"I am happy that Mayor Brockman has continued to do this and that we can return to tradition in our community, "said VFW Commander Martin Monceballez. "Our veterans can come together and see that we have organizations in this community to help those who also need help.
Andersen said local organizations want veterans to feel welcome and to be able to contact them for support, not only for themselves, but also for their families.
"Our veterans community and our veteran service organizations are really working together to make this city a military friendly city that we can all be proud of as members of this community," said Andersen.
He said Memorial Day was originally called Decoration Day and began after the Civil War.
"At that time – and just to note that there is nothing wrong with our culture right now – but at that time, everyone knew someone or had family members who died during the war, "Andersen said. "Then it evolved again after the world wars, almost everyone knew someone or a relative who had died in one of those wars."
Ingram said he was proud of Mayor Brockman and that the community wanted the event after it was canceled last year.
"We're just thankful to be involved in something like this," Ingram said. "I think Mayor Brockman is doing the right thing in deciding we're going to do it."