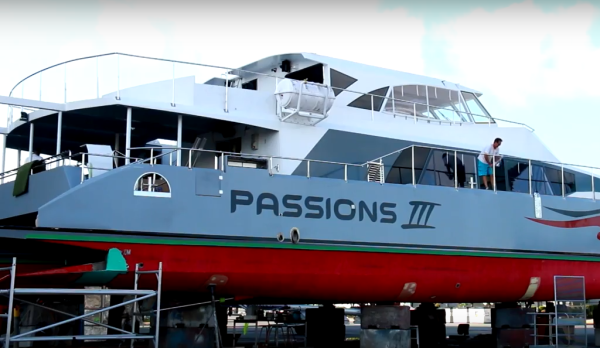 Lessons from "Alan's Boat" – The Diplomat
Three years ago, I filmed a first-hand account of a tourism company on Australia's Barrier Reef, building a superyacht with one of China's oldest military shipyards. What could go wrong? Pretty much everything, if you believe some of the comments on The Diplomat's YouTube channel.
But some things have gone well, and as many countries recalibrate their trade relations with China, it's worth asking how a seemingly high-risk joint venture on both sides – which literally threatened to sink at least one of its partners – turned into a viable relationship.
When the Chinese Civil War ended in 1949, the Beng Bu Shipyard in central China's Anhui Province had already been producing war materials for a decade. Seventy-nine years later, it was time to diversify into foreign civilian markets. They tested the waters with 80 tugboats for Singapore, built to survey one of the busiest ports in the world. Given Beng Bu's history, assembling the yard's first-ever luxury catamaran should have been child's play, even though it was commissioned by first-time visitors to China who barely spoke a word. of mandarin.
What Australian visitors knew was that the 30,000 tourists who dived the Great Barrier Reef from their old boats each year were jumping ship to the competitors' faster boats, which offered more coral diving time. and less time to get there. They needed to upgrade quickly.
The design of Alan's new boat was simple. Years on the water and the expertise of a savvy Australian naval architect contributed to this. Finding a local yard that could build for Alan's price, however, was not so easy. Australian shipyards build world-class boats – but mostly for government contracts. Alan's private funding soon narrowed his choices to cheaper offshore producers.
As a unique build, the boat came with many Australian compliance specifications, but less than optimal monitoring, even with repeated site visits. Alan's task was to step back from "simple" execution to "complicated" expert negotiation, if we classify the changing dynamics of the task, according to Dave Snowden's Cynefin analytical framework prepared for IBM in 1999.
As the project progressed, it took twice as long to fix the boat in Australia as it did to build it in China. Snowden could have said that the boat had backed off even further from the "complicated" knowns to the "complex" unknowns, where each solution could cause nasty new problems. The response from the yard was practical – the boat was a prototype for all parties; it may have left their yard too early for the customer's good reasons, but once shipped it was difficult for Beng Bu to carry out repairs in Australia, which happens to most boats on delivery anyway .
The parameters of the project were daunting: transporting and feeding 120 people a day on a 60-mile round trip to the reef, seven days a week, and continuing to do so 51 weeks a year. The toilets had to flush properly, hundreds of times a day. The diesel-generated electricity powering everything from scuba air fillers to tropical air conditioning and refrigerators just had to work.
Calculating how to outrun the competition at a lower cost was tricky. With hulls designed to be just slippery enough to match engines at full efficiency, the magic cruising speed was 16 knots. Anything slower would cost dive time; faster would cost fuel. Even the antifouling paint that makes the boats resistant to marine growth drag but adds weight had to be redesigned. Instead, specialist divers might polish the hulls in the water every few weeks to keep them algae-free. On paper, at least, anything was possible.
Under Li Keqiang's 2025 "Made in China" plan, the Beng Bu shipyard had already begun building a new computerized manufacturing plant to replace its venerable pre-1949 lathes and presses. The overseas ferry market seemed good for fueling the shipyard's exponentially increased production capacity and diversifying into civilian markets. Alan's boat could be a nice prototype. Beng Bu made a low price and Alan signed.
It's even possible that Alan unknowingly signed with one of the first entirely Chinese-made ballpoint pens – a seemingly humble but prescient advancement. The hardest part of making a ballpoint pen is getting the ball around the tip. It needs almost perfect craftsmanship to write smoothly. Europe and the United States had been manufacturing ballpoint pens since 1946; The first from China arrived in 2017. And perhaps subconsciously, the same drive to catch up made Alan's next four visits to the Beng Bu shipyard an enthusiastically shared mission as the ship took shape.
But as the build developed, time pressures increased and the boat was shipped in near-finished condition to Australia for final rigging and detailing. It was then that the results of some technical communication errors became clearer. Entrepreneurs on both sides began to blame each other, sometimes seizing on stereotypes to explain different working practices.
But even under pressure, neither Alan nor his opposites in Beng Bu get mad at each other. As a hull fills with water in a storm at sea at night when delivering the boat to Cairns, you can almost hear Snowden's analytical clock revert to "chaos", but somehow on the other hand, the main cast manage to push the needle back to simply "complicated." Phone cameras are also useful when language is not enough.
In practice, Alan's boat takes more effort than both parties have estimated, but even with repairs it has a cost advantage over building in a more expensive yard used for similar projects. .
In China, the array of failed expensive foreign joint ventures is legion. Diplomatic readers will know them all too well, and the apparent hoped-for fortunes are then lost when corporate and state cultures collide.
Over the months of filming, neither Alan nor Beng Bu's crew mention or seem to aspire to getting rich from the business. Everyone makes mistakes, but each party's actions consistently demonstrate a shared commitment to the success of the project.
When the Beng Bu executives arrive at the Reef at the end of their joint work (as a new starter is quickly found to start the boat), the excitement on both sides is real and personal.
Multi-jurisdictional contracts can reassure bureaucracies if things go wrong, but if failure is not an option, civility works better. It doesn't matter which pen you start with.