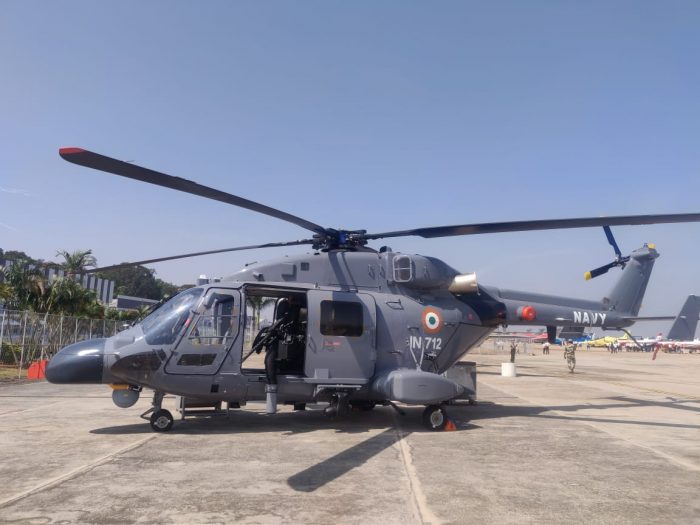 Indian HAL Dhruv helicopters set to win over Airbus helicopters in Philippines defense deal
India is likely to sell at least seven Dhruv Advanced Light Helicopters (ALH) and eight Dornier 228s to the Philippines under the New Delhi to Manila line of credit.
The maritime variant of the Dhruv ALH is currently under evaluation by the Philippines. This involved equipping the Dhruv Mark III with maritime policing capabilities and transforming the standard ALH into the Dhruv Maritime Role (MR) variant, Business Standard reported.
Manila's acquisition of marine helicopters, according to industry and market estimates, resulted in a direct fight between two helicopters: the Dhruv MR and the Airbus Helicopters Panther AS565. The contract with the Philippines would be worth Rs 3,000 crore.
India's state-owned Hindustan Aeronautics Limited (HAL) is pushing its Dhruv MR variant aggressively, saying both helicopters are roughly the same price. Manila would also have the option of doing its own MRO.
In its annual report for 2020-2021, HAL first indicated Manila's interest in purchasing these two "Made in India" platforms. "Our chances in the Philippines look bright," HAL President R Madhavan told Business Standard. HAL manufactured the Dhruv MR as the "Original Equipment Manufacturer" (OEM) of the Dhruv without being hampered by end user restrictions.
India concludes export contract for Dhruv maritime helicopters, developed and manufactured by Hindustan Aeronautics @HALHQBLR in the Phillippines.

It's a direct competition between two helicopters – the Dhruv Maritime Role (MR) and the Airbus Panther AS565.https: //t.co/ffZTjM9cnL

– Ajai Shukla (@ajaishukla) December 1, 2021
HAL strengthens India's air power
The Dhruv ALH has become more sophisticated while becoming more expensive. The Dhruv Mark I, the first ALH variant, was sold to the military for Rs 45-50 crore while each Dhruv Mark III, with its glass cockpit and anti-vibration dampers, costs Rs 70 crore. Maritime role equipment will add an additional Rs 40 crore to the cost of each Dhruv MR, bringing the total cost to around Rs 110 crore.
As HAL develops new, more advanced variants, so does its expertise in helicopter design and development. More than 320 Dhruvs have been delivered to the military, according to the HAL chief.
#LOOK | The Indian Navy ALH Dhruv native helicopter operating from the native aircraft carrier 'Vikrant' during the review of the warship by Navy Minister Sarbananda Sonowal near Kochi, Kerala today pic.twitter.com/8j3Fx2vpJn

– ANI (@ANI) October 31, 2021
In November 2013, the Indian Navy commissioned its first Dhruv (Mk I) squadron. In April 2021, the Indian Navy (IN) commissioned its first carrier strike squadron equipped with the locally designed and developed Dhruv Mk III (ALH) advanced light helicopter.
HAL won a contract to produce 16 ALH Mk III aircraft, an upgraded variant with Shakti-1H engines, a new electronic warfare (EW) suite and warning systems, stand-alone chaff and flare dispensers and a best vibration control system.
Last month, Prime Minister Narendra Modi handed over an LCH produced by HAL to the Indian Air Force (IAF). The light combat helicopter includes sophisticated technologies and stealth functions for combat missions. During a recent visit to HAL, IAF Air Chief Marshal VR Chaudhary asked if the Dhruv could be equipped with additional capabilities.
"Just select the systems you want," replied HAL helicopter engineers. "Within the limits of the ALH's flight capacity, we can fit them all.
Main challenges
A small number of countries already operate Dhruv ALH, including the Maldives, Mauritius and Nepal. Myanmar is also said to be interested in acquiring these platforms. Despite India's enormous potential as an exporter of helicopters, "end-user" difficulties continue to limit the maneuverability of the HAL.
With HAL helicopters still having 50-55% indigenous content, but essential systems still sourced from the UK, Israel and France, exporting these helicopters requires export clearances from these source countries. .
This often involves a political agreement on the nations to which these helicopters can be sold. Supplier countries are sometimes reluctant to supply arms to countries like Myanmar.
Despite all the hype around "Atma Nirbhar Bharat" (Self-Sufficient India), a simple economy keeps indigenous content from exceeding 50-55%. The composite material used to make the helicopter fuselage is imported.
No Indian company produces the aluminum alloys used in the mincer because they are not needed in sufficient quantities to allow economies of scale.
Ejection seats, for example, are a complex product that is almost entirely swallowed up by British manufacturer Martin-Baker, according to engineers at HAL. Likewise, Cobham, another UK company, manufactures in-flight refueling equipment for almost the entire Western aerospace market.
Exports of fixed-wing aircraft and helicopter engines will continue to account for 25-30% of the cost of planes until Indian companies start manufacturing them.
ALH Dhruv Mk III
ALH MK III helicopters have a number of systems that were previously only available on the heavier multi-purpose helicopters of the Indian Navy. These helicopters are equipped with advanced surveillance radars and electro-optical equipment, enabling them to conduct maritime reconnaissance as well as long-range search and rescue operations at any time of the day or night.
It is equipped with a heavy machine gun to perform gendarmerie missions in addition to special operations capabilities. The helicopters also have a detachable Intensive Medical Care Unit (MICU) for transporting critically ill patients and are fitted with a variety of modern avionics, making it an all-weather aircraft.
The contract for the Indian Navy includes the integration of 19 major systems with the existing ALH MK III, including IFF MKXII & ATC Xpdr with ADS-B Out, V / UHF Communication System, Traffic and Anti-Collision Alert (TCAS-I), Homer SAR System, Automatic Deployable Emergency Locator Transmitter (ADELT), Megaphone, Radio Altimeter, Basket Rescue Unit, Medical Intensive Care Unit (MICU), IADS System, AFCS, Digital Video Recording System (SSDVR), Automatic Identification System (AIS), High Intensity Projector (HISL), Pressure Refueling System, control grip, EO POD Rev III, radar surveillance system and 12.7mm barrel system.
Six of the 16 naval ALH Mk-IIIs will be equipped with low frequency diving sonar (LFDS) developed by the Naval Physical and Oceanographic Laboratory in Kochi. Bharat Electronics Limited, a public company, manufactures the sonar units, with a large number of downstream sub-suppliers.