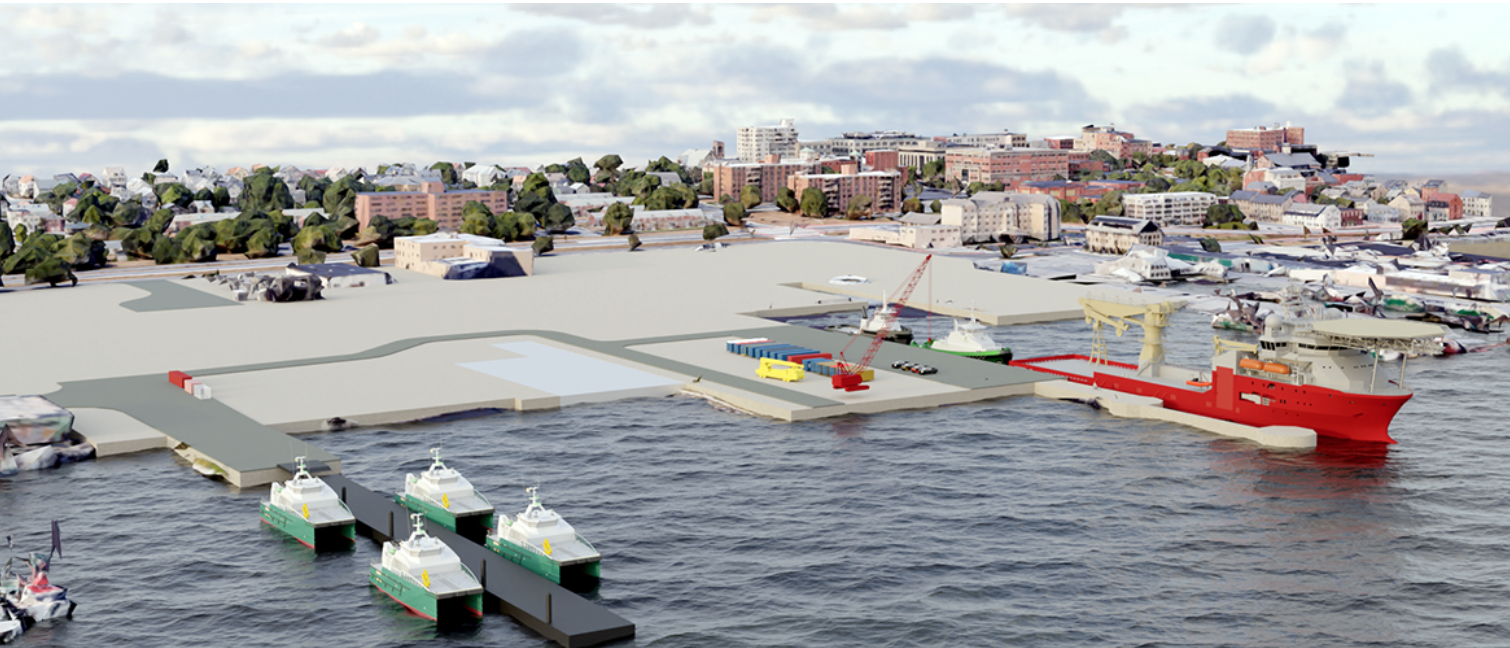 Foss Marine and Partners Detail New Bedford Windport Plans
March 24, 2022
A 29-acre port site in New Bedford, Massachusetts, will be redeveloped into a new terminal and berthing facility by March 2023, as a base for offshore wind projects and the vessels to support them, Marine Foss and city officials announced this week.
the Eversource Energy/Sprague Oil The property is an oil fuel terminal that has functioned as a regional hub for both companies, and is now considered a prime location for servicing offshore wind leases in federal waters approximately 15 miles offshore.
A rendering of Foss Marine's parent company Saltchuk shows a planned layout with berths for Crew Transfer Vessels, or CTVs, built for technicians' quick trips to the wind turbines, and larger Service Operations Vessels, or SOVs, which would remain stationed at sea in the middle of wind turbine networks.
The property will also have a berth for vessels and barges – a crucial need in the early years of construction of offshore wind projects in the United States, requiring turbine parts to be transported from New Bedford on Jones Act compliant US flag vessels to be hoisted and installed. by ships flying a foreign flag.
Foss partners include local investors from New Bedford's cannon street Assets LLC. Andrew Saunders, a local commercial offshore marine industry lawyer from Cannon Street Holdings, will serve as president of the New Bedford Foss Marine Terminal.
"This day was the result of great support from many key local and state government stakeholders as well as industry stakeholders and we would not have gotten to this point without that support," said Saunders. "Both Sprague and Eversource also helped tremendously in making this day a reality. Thank you to everyone involved."
"The New Bedford Foss Marine Terminal is perfectly located to support offshore wind projects on the East Coast," said Jason Childs, president and CEO of Foss parent company Saltchuk Marine. "We appreciate the vision of the Town and Port of New Bedford and the vital role they play in the success of this project.
New Bedford Mayor Jon Mitchell welcomed the announcement.
"We are delighted to welcome Foss to the Port of New Bedford. The new terminal will cement the Port's status as the leader in offshore wind on the East Coast, complement our fishing industry and create opportunities for our residents," said Mitchell. "I commend Andrew Saunders and Foss' parent, Saltchuk Marine, for their skillful and persistent efforts to close this important deal."
"Foss' investment in New Bedford is a great example of how the emerging offshore wind industry, led by the Vineyard Wind 1 project, can have a significant impact on the community," said Wind from the vineyard CEO Klaus Moeller. "The agreement will not only expand Foss' operations in Massachusetts, but also create opportunities for local residents. We are proud to work with Foss and look forward to the positive effect their presence will have in the town of New Bedford.
"We are pleased to have supported Foss in the development of this terminal, as we believe it is an example of value creation in the development of offshore wind along the northeast coast. This shows that cooperation, long-term relationships and trust between businesses and people create opportunities for multiple parties and lead to local job creation," said Jan Klaassen, director of offshore DEME WE, which will provide the wind turbine installation vessel for Vineyard Wind.
The seller of goods, Sprague Massachusetts Properties, is wholly owned by Axel Johnson Inc. which is a privately-held operating company whose mission is to invest in and help grow large, industry-leading companies for the long term. Until mid-2021, Axel Johnson was the majority owner of Sprague Operating Resources, with Sprague using the New Bedford facility as its oil marketing site.
In the near term, Sprague will continue to serve the New Bedford oil market from its neighboring Providence, RI distribution terminals by truck.
"We are proud of our continued partnership with the City of New Bedford and the work that has already been done at the waterfront site over the past several years," said Jim Hunt, Eversource Executive Vice President for Community Relations. businesses and sustainability. "The redevelopment of the property will bring environmentally friendly economic development opportunities to the region as our region becomes a leader in offshore wind, which aligns with our work to create a more sustainable future."
A groundbreaking ceremony will take place later this year, in conjunction with the A SouthCoast Chamber of Commerce.