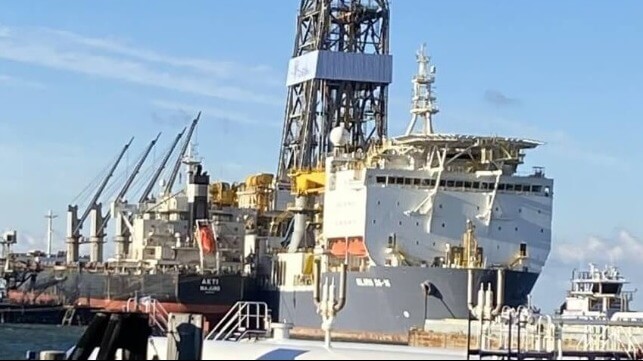 Drillship Valaris drifts towards a moored bulk carrier
On Saturday, a drillship broke loose from its moorings and drifted into a bulk carrier moored on Bayou Casotte, near the VT Halter shipyards and Chevron docks in Pascagoula, Mississippi.
At around 1:30 a.m. Saturday, the Coast Guard Mobile Sector received a report from the National Response Center – the USCG's pollution control agency – that a collision between two vessels had occurred within its jurisdiction. The 750 foot drillship Valaris DS-16 – originally falsely reported as the "Valaris" – broke loose from its moorings in strong winds and struck the moored and immobile bulk carrier Akti.
During the initial response, the drillship was held in place against the Akti by three tugs. Both vessels reportedly suffered minor damage, with some additional damage to the pier.
Images courtesy of USCG
The Coast Guard Mobile Sector sent a pollution prevention team to monitor the situation, and so far no injuries or pollution have been reported. the Valaris DS-16 is believed to have about 580,000 gallons of fuel on board, according to the Coast Guard.
Saturday evening, Valaris DS-16 was moved to its previous anchorage on the other side of the bayou, according to AIS data provided by Pole Star. the Akti stayed in his bunk.
Valaris DS-16 is an ultra-deep drillship built in 2014. It arrived in Pascagoula in January after returning from a round trip to Las Palmas.