Cleaning the outback is a bonus because this couple is living the dream of an Australian road trip
Five years ago, as a 20-year-old carpenter, Boe Langford broke his back.
Key points:
Outback Cleanups Australia was started by Boe Langford, 25
He says he and his partner collected nearly 60,000 kg of trash from remote bush and beach areas of the country.
They visited Alice Springs and are now on their way to the Kimberley
His dream of a road trip through the outback in his troop transporter, motorcycle in tow, was at stake.
But after months of rehabilitation, he hit the road, and he quickly traded the bike for trash cans on a mission to clean up the country.
"The garbage there was pretty telling," he said.
"The place [in the trailer] where the bike would go, you could fit four wheelie bins. So I thought, 'Go on'. "
Today, Mr Langford and his partner Kimberley Baraiolo roam Australia, picking up trash in every state and territory – except Tasmania, so far – under the Outback Cleanups Australia (OCA ).
The 25-year-old, who grew up in the isolated opal town of Mintabie in South Australia, started OCA in 2019 and is in the process of registering it as a charity.
"As far as we can tell, there was no non-profit organization dedicated to disposing of waste from distant Australia," he said.
"So we thought about filling this gap because there is a need."
Bush around Alice Springs 'ransacked'
So far, they have removed nearly 60,000 kilograms of garbage, which they pack in bags made from recycled sail scraps, pack in their trailer and deliver to local landfills.
Their findings range from weird and wonderful to sinister – from sex toys ("a lot of them") to a "dead baby dolphin" without a scratch, "found floating in the sea off Port Lincoln. plastic.
This week, they hiked the wavy dirt road from the remote Apatula community to Alice Springs, picking up debris left behind by campers and spectators after last month's Finke Desert Race.
"Ninety-five percent of the people did the right thing," Mr. Langford said.
"But we probably found over 100 campsites littered with garbage.
"We have just under 800 kilos between Mount Dare and Alice Springs, mufflers included."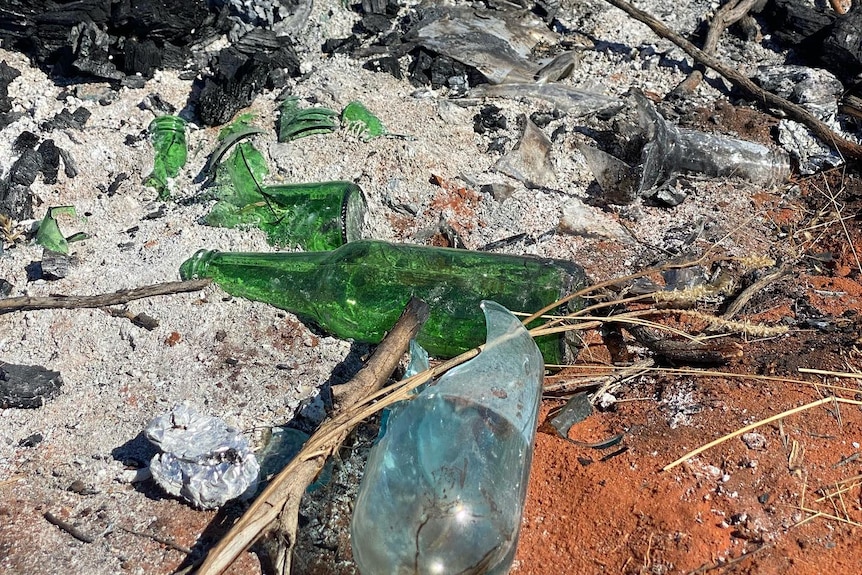 They have also stacked discarded tires which they hope to remove at a later date "when we come back with more funding and more equipment."
"But all the packets of crisps, the cans of coke, the burnt plastic plates, we got out of there," Mr Langford said.
"We are aiming to start next year with two or three vehicles, not just one, and to get bigger sponsors on board that sponsor the Finke race.
"If they want to sponsor the runners, they should help sponsor the cleanup," he said.
While waiting for a new trailer to be made in Alice Springs, Boe Langford and Kim Baraiolo got down to work cleaning up areas near town frequented by free campers and dumpers.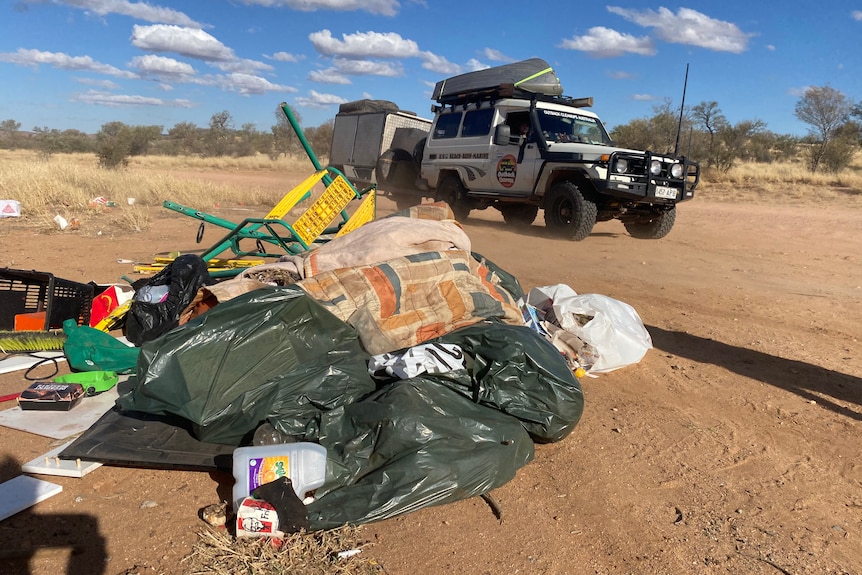 He believes community action would help solve the problem of reckless rubbish dumping and hopes to create an "eco-tourism-conservation" operation.
"We would like to have five full-time staff or volunteers, and then we would like to bring in, say, a group of 10 volunteers for 10 days and go and clean the bush three hours a day.
"They could come back feeling good and taking some great photos. We would do hospitality," said Mr Langford.
This weekend the couple will head northwest from Alice Springs through the Tanami Desert to the Kimberley, "from Halls Creek to Kununurra, and take the Gibb River Road and clean up as much as possible before the wet weather. ".