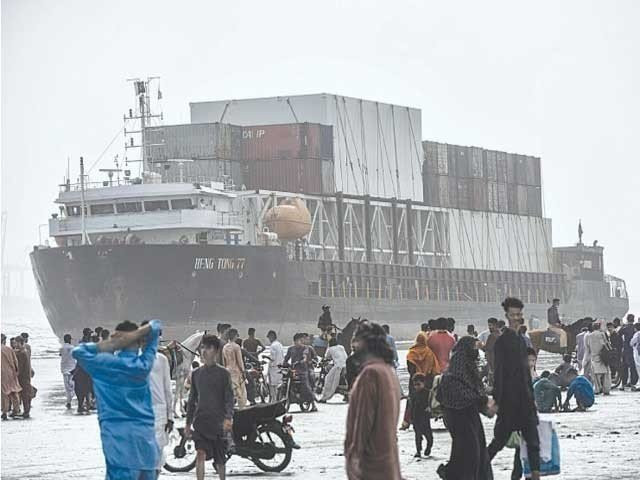 A stranded ship off Karachi has been refloated
KARACHI:

A container ship stranded on Karachi beach was finally refloated after seven weeks in the fifth successful attempt on Tuesday.
The ship, Heng Tong 77, is now heading for deeper water.
Seamex, a company that carried out the rescue operation, said the ship was successfully refloated at a cost four times lower than that charged by foreign companies.
The freighter ran aground and got stuck off Sea View Beach in Karachi on July 21.
Earlier, all four attempts to rescue the ship had failed.
However, the decision to use the Cobra rope, with a pulling capacity of 0.1 million tons, proved to be effective.
In the first phase, the vessel's heading was corrected and the second phase involved towing the vessel to deeper water, said Captain Asim Iqbal, the maritime agent involved in the operation.
Read more: Efforts to refloat stranded ship fail
Field boats as well as crane barges and tugs also participated in the operation.
Iqbal added that the vessel was eventually towed 2.5 kilometers offshore.
The shipping agent said the vessel was in very good technical condition.
"The vessel's engines are also in working order and no damage was caused to her during the operation."
He added that further measures would be taken in accordance with international maritime law.
Coastal Affairs Ministry adviser Mahmood Moulvi said three ships could not be launched earlier from Sea View beach. They were dismantled and had to be brought ashore.
"For the first time, a ship has been rescued safely using local capabilities – a milestone in the country's maritime industry. "
The adviser said the ship has now floated on the high seas and will soon be anchored in port. "The ship has been placed in government custody. He will not be allowed to continue his journey until he is considered safe and fit to travel.
"All expenses, including the operation of rescuing the ship, would be the responsibility of its owner. "
SeaMax CEO Arif Sheikh told media the ship was out of danger. He said that using local capabilities and experience, the ship was refloated safely without damaging the coast.
"A foreign company would have charged around $ 2 million, but we only hit a quarter of that amount," he said.
However, the port of Karachi refused to dock the ship. The shipping agent had not requested a berth at the port earlier.
He requested a berth from the port authorities at 7 p.m.
The vessel was moored to a tug and moored at the outside anchorage.
Shipping agent Iqbal and CEO of Seamax Arif said keeping the vessel moored to a tug overnight can be dangerous.
According to sources, the ship would be provided with a berth on Wednesday morning (today).